Weiterführende Informationen
Top content
Welcome to the graduate school!
We are very pleased to welcome so many talented scientists to our interdisciplinary Joint Lab!
The first day of work on September 1st was full of events: after getting to know each other as a working group for the first time, we visited the future working place at the former engine roundhouse, which thrilled everyone! Back to the temporary work location (the group photo was taken there) the day came to a cozy end with coffee and cake together with the supervisor team from Osnabrück.
We are looking forward to a great time together!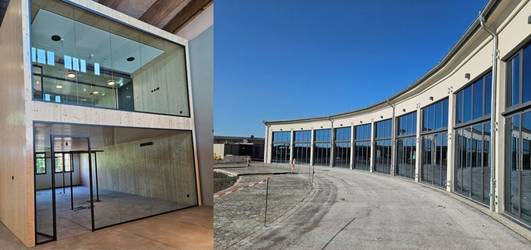 Exciting times
The joint lab of the Leibniz Institute for Agricultural Engineering and Bioeconomy in Potsdam and the Osnabrück University represents a lot of new things. Regarding research: the doctoral students will conduct research at both locations and thus benefit from expert knowledge from both areas with the aim of using their research results for implementation into direct agricultural applications. In addition, the working location in Osnabrück will also be a novelty: the graduate college will work together with other AI related research institutions and startups in a shared working environment. The building, which will soon be finished, is one of the most exciting and impressive buildings in Osnabrück: the historic engine roundhouse will be converted into a modern working environment as part of the Coppenrath Innovation Center.